Tie Dye Kit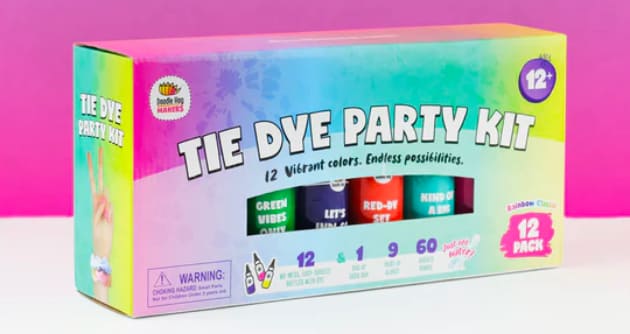 When was the last time a kid thought a plain white t-shirt would be a fun? With the Doodle Hog Tie Dye Kit ($76), that t-shirt is a blank canvas just waiting for a bright and striking display of color to be applied. This Tie Dye Kit comes with 12 custom color dyes in easy-squeeze bottles, 1 bag of soda ash (helps the dye adhere to cotton shirts), 9 pairs of gloves, 60 rubber bands, and an easy-to-follow dye technique guide.
Different techniques in the guides provide different results. They are washing-machine safe, but some slight fading is to be expected. That said, the colors are pretty vibrant and can remain vivid after multiple washings. Tie dye is a process, so this isn't something that can get thrown together within a single afternoon birthday party, but it still can be good activity for families and friends who are already staying together.
While this kit contains all the tie dye materials, there are other things needed for the process: drop cloth or plastic for the ground, a bucket deep enough to dip shirts in, and another plastic bag to sit for a day (i24 hours).
This is a one-of-a-kind activity that is memorable as much as it is wearable. Because each result is unique, a tie dye kit gives opportunity for kids to personalize their creation. And though there are suggested designs in the instructions, there is no right or wrong way to do it – try different designs and see how they a turn out. Even though targeted towards shirts, the tie dye kit can be used with other things such as pillow cases, socks, or napkins. Kids of all ages can have fun doing the steps and getting a cool shirt out of it, but its best for older children and/or grownups to supervise the steps. Tie dye kits are a good gift for a kid.