Interior Color LED Car Light Strips from Govee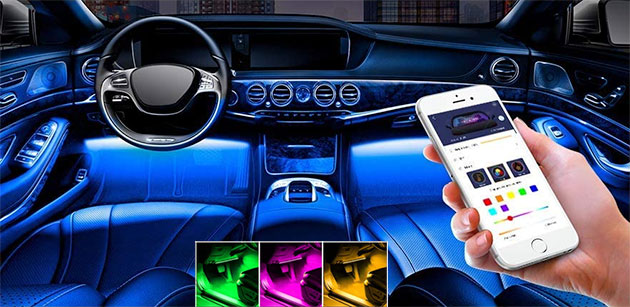 Shop Now (for Interior Color LED Car Light Strips from Govee) →
Around the time a kid is 16 is when he or she will get her own ride. Maybe it's a clunker from the 80's, or maybe it's a brand new Lexus, but either way, it's their own, and nothing says making something your own like adding your own accessories.
Enter Govee's Interior LED Car Lights kid (about $17), that install easily, and works with any cigarette lighter. There's a supplied controller, or there's also a phone app, that can be used to light up the interior in any color (or all of them!). With an option to react to music, it's a party-on-the-go that puts that extra delight to any kid's first car.
Using the brightness modes, the lights are bright enough to see the interior without a harsh glare at night on the lower setting. There's no complicated wiring - it's driven from a standard cigarette lighter, and it's simple for the kid to install themselves if they desire.
For those reasons, we think Govee's Color LED Light Strips for a car interior make a good gift for a kid who just got is first set of wheels.