Good Guitar Starter Set for Teens - Fender Squier Acoustic Bundle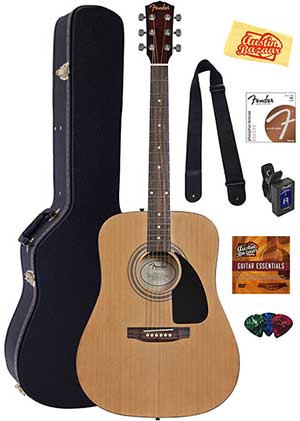 Shop Now (for Good Guitar Starter Set for Teens - Fender Squier Acoustic Bundle) →
The approachability of an acoustic guitar makes it a great gift idea for teens no matter if they've ever had a music lesson, and no matter what kinds of music they are interested in. At $180, the Fender Squier Acoustic Guitar Bundle is a superb deal for a quality product. Everything needed to get started is included: the guitar, a case, a stand, strap, tuner, extra strings, picks, and instructional media. Right out of the box, it's set to go.
The guitar is the type of instrument that can reward even the smallest of efforts (relatively to the violon, for instance). As many rock songs use a basic three chord progression, someone can literally be covering and creating songs within the first hour. As someone seeks to master the guitar, so too are they learning about new music styles and cultures. If someone takes lessons (or looks online for free ones), suddenly kids born in the 21st century are getting exposure to the Beatles, Santana, and Led Zeppelin.
Even though the learning curve isn't steep, we wouldn't recommend guitars for kids younger than teens. The ability to stretch hands around the neck of the guitar to pinch strings just right for chords can be tough and frustrating for smaller hands – it's more suitable for older kids/teens whose arms and hands can handle an adult instrument.
A guitar encourages focus, can be a nice introduction to the vocabulary in music, and serves as a social bridge when getting to know new people. It can also boost self-esteem and help kids practice patience. These are all invaluable things particularly for kids in the teenage years. And over time, this gift can lead to supplemental presents like guitar chord songbooks for the favorite bands.