Zoom, Zoom, Baby! flap book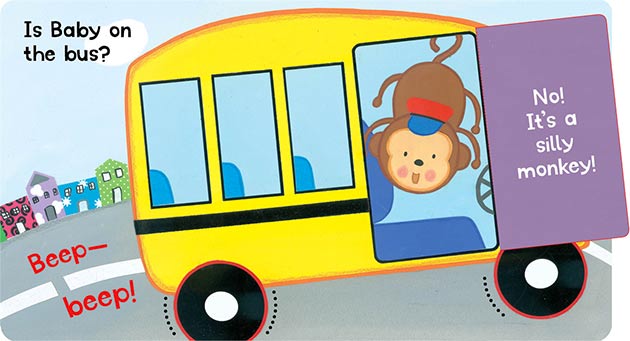 Shop Now (for Zoom, Zoom, Baby! flap book) →
Lift-the-flap books make reading time for engagement for little ones, and a great book to add to the collection is Zoom, Zoom, Baby! ($7) by Karen Katz.
Reading with little children is one of the best activities one can start at an early age. Kids at 6 months are into playing peek-a-boo style games, and a lift-the-flap book reinforces the idea of this type of discovery. Flap books are sturdy so that little hands of this age are getting used to grasping items, and flap books are very hands-on and built for kdis to play with.
When reading with younger kids, ask questions about what is on the page. Point and say thing appropriate for the book. For this one, "Do you think the baby is in here?" Then when lifting the flap… "No! It's a funny bunny!". Exaggerate your voice to make book reading more engaging. Point out other things on the page – "See the wheels? What color is the sky?". The illustrations in Zoom, Zoom, Baby! are inviting, friendly, and funny. Point to them and talk about them, while also calling attention to the words that you're reading.
With Zoom, Zoom, Baby!, vocabulary related to travel ('car', 'boat', 'bus', and 'train') can be reinforced to the kids. Obviously they won't walk away knowing exactly what this item is, but the more they see it and hear the parent name it, the quicker kids pick up on what names these items have. Babies likely have some of these toys already, and associating objects with the same name—"This is a bus, and look – you have a toy bus, too!"—can stimulate intellectual growth.
In summary, reading with children is one of the best activities for kids and parents. An appropriate-age book, like the Zoom, Zoom, Baby! flap book for older babies and young toddlers, is a good gift for kids.