Quadrilla Vertigo Marble Railway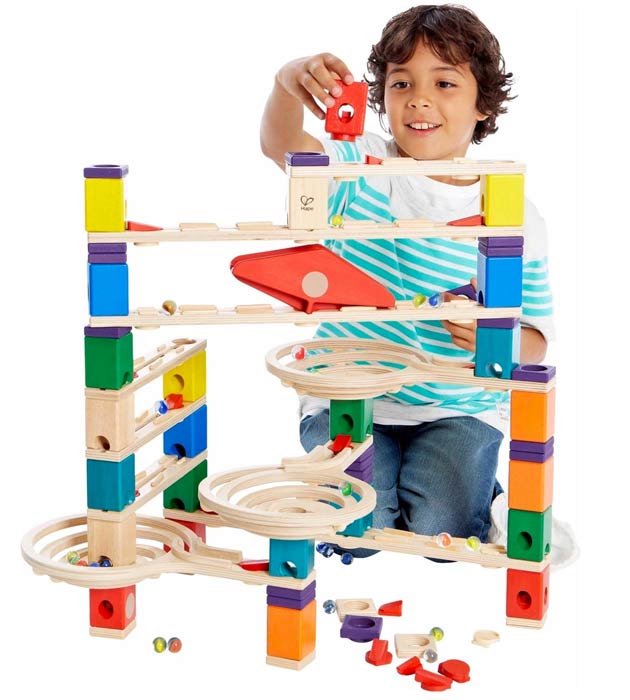 Shop Now (for Quadrilla Vertigo Marble Railway) →
If you are looking for a good quality gift for a five- to seven-year-old, the Quadrilla Vertigo Marble Railway ($84) wooden marble run is dizzying fun. The Vertigo set, like the other Quadrilla sets, provides a collection of interchangeable pieces for creating marble runs in many configurations. Kids will enjoy assembling marble paths from the curved wood tracks, funnels, and an assortment of blocks made from high quality natural wood, with each configuration changing the marble's path. With add-ons available from other Quadrilla wooden marble run sets, this set will be a repeat favorite for multiple kids in the same household, and even multiple generations.
Marble run construction sets allow kids to exercise logic, math, and physics on a basic level. They realize "to make the marble run this way, I need to add another block to this tower". Especially when wanting to build their own marble run maze, they will strategize and reason when planning out the run. This type of toy rewards being constructive, as they will want to build the biggest track, using the most pieces, as they can. While friends will want to play with it, too, a wooden marble run constructive toy is also good for independent play, as kids can guide their creations and control their own pace. This type of play is quite important for kids' development.
The Quadrilla marble run sets are a well-crafted series of toys, easily approachable by kids as young as five, and provide an outlet for creating and problem solving. It's a simple toy that makes kids want to challenge their own limitations. They will be proud to show off their ingenuity in assembling their own marble railway.